Tech Trek
Science, Technology, Engineering and Math
Tech Trek is a week-long academic residential camp featuring hands-on activities in science, technology, engineering and math (STEAM) for girls entering 8th grade. Instructors include teachers and professional women in STEAM related careers. The camps are located on university and college campuses where campers are immersed in the full campus experience. 7th grade girls are nominated by their teachers and then go through a rigorous selections process which includes application essays and interviews by our Branch Selection Committee. AAUW Healdsburg Branch is proud to be able to send local girls to this camp.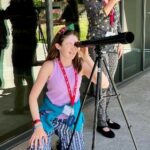 In 2023, the AAUW State Tech Trek Committee coordinated 8 in-person camps and one virtual camp. One hundred ten (110) AAUW Branches sent more than 800 girls to these 8 camps and provided 250 volunteers. It really takes a village go make this event happen. Our branch was part of that group of 250, providing Instructors and a Dorm Mom. A separate group of Branch volunteers participated in a coordinated effort to make Chromebook laptops available for use at each of the two camps held at Sonoma State University.
This year our Branch sent 7 girls to the Tech Trek camps held at Sonoma State University. Four attended Camp Franklin in June and three attended Camp Johnson in July. At the end of the week, a camp requirement for each girl is to write a letter to the Branch that sponsored them. Click HERE to read their enthusiastic responses to having been chosen to attend this amazing STEAM experience.
For more information about our Tech Trek program, contact Nancy Haiston.
For more information about becoming a sponsor, contact Mary Barsony.
Tech Trek Alumni Group (TTAG)
The Tech Trek Alumni Group, TTAG, a new AAUW Healdsburg program, will focus on encouraging Tech Trek Alumni to stay connected to STEM talented, like-minded girls from middle school thru high school. TTAG will build upon the excellent work that GEMS (Girls Engaged in Math and Science) had accomplished over the years as one of our core STEM programs. AAUW mentors will guide and set up TTAG participants for success by helping them plan and host their own fun programs and community events related to STEM.
Past GEMS activities have included Professional Women's Career Panels focused on careers in STEM, and field trips to Keysight Technologies, Medtronic, Canine Companions, Pixar, Bodega Marine Laboratory, and local hospitals.
For more information about TTAG opportunities, contact Karla Rosen, TTAG Chair.
Expanding Your Horizons
A national organization, EYH has merged with TechBridge Girls. For over 30 years, the EYH chapter in Sonoma County has hosted an annual event: a one-day, hands-on workshop conference exposing 7thth and 8thh grade girls to STEAM careers requiring a math and science background. The local AAUW Branches, Healdsburg, Petaluma, and Santa Rosa, support the conference with donations and volunteers.
For more information about EYH and EYH opportunities, contact Nancy Haiston, EYH Chair