Founded in 1881, AAUW promotes equity for all women and girls, lifelong education and positive societal change. There shall be no barriers to full participation in this organization on the basis of gender, race, creed, sexual orientation, disability or class. Click here to learn more about the Healdsburg Branch.
---
Given concerns about the Corona virus, the AAUW Forum classes scheduled to start on March 17th and March 19th have been canceled  Those who have registered will receive a refund.  We look forward to continuing the Forum when we have a clearer understanding of the impact of the risks of the Corona virus on the community.
---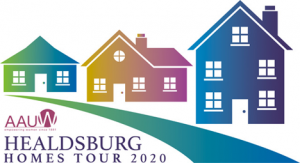 Sunday, May 3, 2020
Unfortunately, as a result of the current pandemic and its wide-ranging effects, we are cancelling this year's tour.  We are saddened to make this difficult decision, but believe that it is the responsible and appropriate action.
If you are able to make a donation to allow us to continue our initiatives supporting young women in our communities and beyond, please click here or send a check to the Healdsburg AAUW Fund, P. O. Box 1064, Healdsburg, CA  95448.  We are grateful for your support.
---
AAUW California 2020 Convention
Cancelled