Serving Cloverdale, Geyserville, Healdsburg, & Windsor
Founded in 1881, AAUW promotes equity for all women and girls, lifelong education and positive societal change. There shall be no barriers to full participation in this organization on the basis of gender, race, creed, sexual orientation, disability or class. Click here to learn more about the Healdsburg Branch.
---
Healdsburg Branch Annual Meeting and Picnic
Friday, May 27, 2022 11AM to 2PM
Riverfront Park: 7821 Eastside Road, Healdsburg
Finally, we can meet in person for our annual meeting and election of officers for the coming year. The election and installation of officers will begin at 11:00, to be followed by a celebratory potluck picnic.
Please bring a dish to share:
A-K: Dessert
L-Z: Salad
Drinks will be provided.
Remember your badge
Please RSVP to Claire Burdett.
Although parking is available ($7 parking fee), it is somewhat limited, so carpooling is encouraged.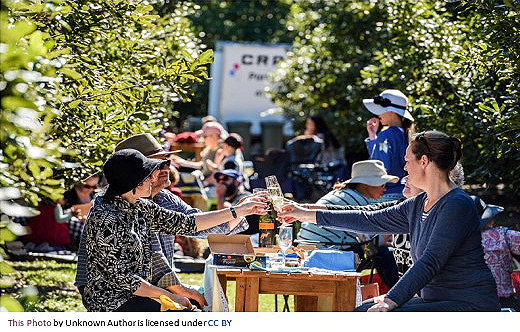 Please RSVP to Claire Burdett.
For Claire's contact details, check the Members Only tab under the Membership section on the website.
---
HEALDSBURG AAUW INTRODUCES
The 2022-23 Board of Directors' candidates
#elected position, +appointed position, *incumbents
#President : Laura Tredinnick
#Vice President : Nancy Jane Andrews
#Secretary : Donna Campoverde
#Treasurer : Lee Sigler
+Past President : Kate Van Ness
+Communications Director : Kim Alexander
+Fundraising Director : Dena Cochran*
+Membership Director : Janice Sexton*
+Mission Based Programs Directors : Beth Wolk* and Cathy Mock
+Public Policy Director : Tyra Benoit
+Scholarships Director : Julie Hanamura*
+Social Activities Director : Kerry Weiner Elkind*
+STEM Director : Patty McHugh*
---
2022 TECH TREK CAMP
The Healdsburg Branch is proud to announce that we are sending eight 7th grade girls to the 2022 Tech Trek Camp sponsored by AAUW. Our campers will attend the camp hosted by Sonoma State University. The camp dates are June 19th to June 25th. Tech Trek is an academic residential camp featuring hands-on activities in science, technology, engineering and math taught by teachers and professional women in STEM related careers. This is the first in-person camp since 2019 and everyone is excited. If you'd like to know a bit more about Tech Trek, click here.