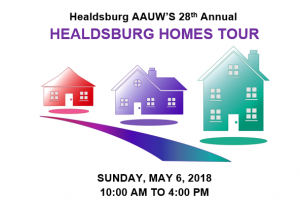 This year's Healdsburg Homes Tour features six historic homes exemplifying the preservation of Healdsburg's architectural heritage for contemporary living.  The core of the oldest home, built over 150 years ago, was a settlement era cottage.  Two homes are Queen Anne Victorians.  One was the recipient of the Museum's prestigious Historic Preservation Award in 2008.   The turn of the century bungalow built as one of the "Howard Cottages" might have been one of the first tract home in Healdsburg.  Also see Craftsman homes, gorgeous gardens, and amazing interiors.
For a history of the Homes Tour, CLICK.
For a more in-depth understanding of the different architectural styles before the Homes Tour, see the exhibition "Healdsburg's Architectural Heritage" opening at the Healdsburg Museum on May 3rd. Visitors to the tour will also want to take advantage of Healdsburg's fine restaurants, shops, galleries and tasting rooms.
Tour begins at the Healdsburg Museum, 221 Matheson St. @ Fitch
All homes are within a few blocks radius of the Museum
Check-In Begins at 9:30 AM
TICKETS ARE $45 IN ADVANCE
ONLINE                                             (Credit card or PayPal)                  CLICK HERE
MAIL-IN ORDER FORM                 (Personal Check)                             CLICK HERE
PURCHASE IN PERSON              (Cash or Personal Check)                CLICK HERE
Tickets are $50 on the day of the Tour at Museum – (Payable by Credit card, Cash, or Personal Check)
---

AAUW FORUM RETURNS IN THE FALL
The Fall series starts Tuesday, Oct 9 and Thursday, Oct 11. Tickets go on sale September 1.
There is a terrific lineup for next season. Click Here for Year at a Glance. More information will be available throughout the summer.
Have a great summer. Hope to see you in the Fall.