Ongoing Community Programs
Speech Trek
In the fall of 2017, the Healdsburg branch of AAUW will begin its second year of Speech Trek.  This statewide program provides local high school students with the opportunity to write and perform a 4 to 6 minute speech on a topic relevant to the rights of women and girls.  Students are coached and mentored by AAUW volunteers who guide them through writing and presentation of their speeches.
In February of 2018, the students will compete against each other for cash prizes.  Judges, local politicians and attorneys from our community volunteer to judge the students and a video of the first place winner's speech will be sent to the state AAUW to be considered for a statewide competition in April of 2018.
Speech Trek needs volunteers interested in working with these young orators to help them write a strong and persuasive argument and present it with poise and polished advocacy.  Please contact Hillary Kambour or Diane Burnley for more information.
---
GEMS go to Facebook in Menlo Park
To help mentor young girls interested in STEM (science, technology, engineering, and math), we have developed a program called GEMS. Recently we took a dozen high school girls on a field trip to Facebook in Menlo Park.  The girls were impressed with the FB mission to connect everyone on the planet. And were bowled over with the new virtual reality hardware (see photo).
The girls were thrilled to discover that there were far more job opportunities other than straight computer engineering. In fact one girl is now planning to apply with the hope the company can combine her love of acting with her experience in chemical engineering.  (Note: we were told it's possible.)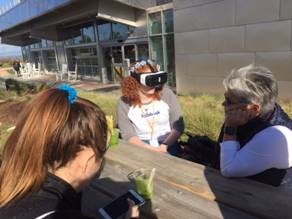 ---
FUTURE PREP: Career Choices & Life Skills is Healdsburg AAUW's award-winning public service program, beginning in 2009 at Healdsburg High School.  Initially the program brought in panels of professionals from a wide variety of fields to introduce students to career choices and the paths to those choices.  The program has since evolved; while still offering panels of professionals, we now also provide experts in individual classrooms for project-based collaborative learning problems, or questions on which the students are focused. Future Prep is now in it's 3rd year at Cloverdale High School.
For more information contact Katherine Lacy (Healdsburg) or Cecile Peters (Cloverdale)
---
Reading Rocks This program is designed to help first graders improve their reading skills. An AAUW volunteer spends an hour each week in the same classroom assisting the teacher and working with students on an individual basis. They listen to children individually reading stories chosen by their teachers, helping them when needed, but mostly encouraging them one-on-one. Since the introduction of Reading Rocks to the classrooms, reading test scores have greatly improved. The program has been at Healdsburg Elementary School for many years, and in 2013, due to the desire of so many new members to volunteer, we added West Side School to the program.
For more information regarding the school programs, contact Shally Schultz for Healdsburg Elementary School and Denny Martin for West Side School.
---
Expanding Your Horizons Network is an international network of programs designed to inspire girls to recognize their potential, and pursue opportunities in STEM education and careers.  Healdsburg AAUW provides support for participants and volunteer assistance at an annual one day program held at Sonoma State University (SRJC on alternate years).
Contact Victoria Toboni for more information.
---
GEMS (Girls Engaged in Math & Science) This program, headed by Margie Koetzner, takes middle- and high-school girls interested in math, science, and technology on field trips to workplaces and special events to introduce the girls to career professionals in the STEM fields. Our Tech Trek graduates are the main focus, but other girls with similar interests are welcome and encouraged to join.
---
PSST need tutors! How about you? Just one hour of your time each week could have lifelong benefits for a Junior High or High School student. No experience necessary. Public School Success Team (PSST), providing training and on-going support, is a non-profit corporation created to increase graduation rates in the Healdsburg public school system. Contact PSST Administrator at 494-4968. Although supported by a number of AAUW members, this is not an AAUW program. Please contact Kim Alexander for more information.
---